Most districts require your high school information and the highest degree attained, and you can list what academic institutions you attended (beginning with your high school) via the Education page.
Education
The system marks the required sections with a red asterisk (*), but keep in mind that you are also required to complete the "From:", "To:", and "Date Conferred" sections if you have added an institution in the first box.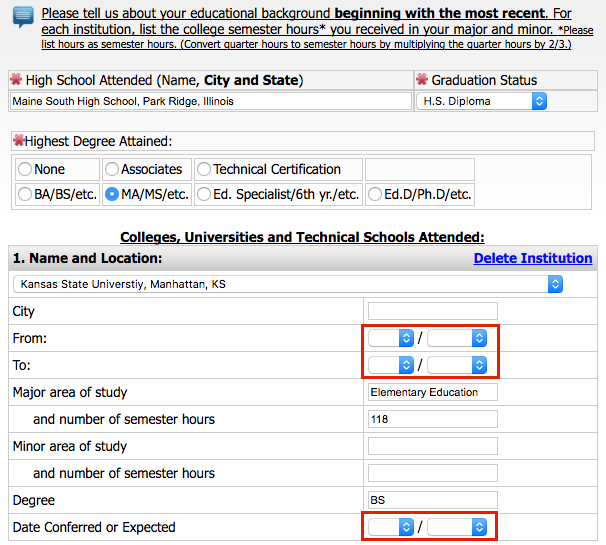 Take note, the system imposes a character limit for the major area of study, and you may need to abbreviate your entry for that section. The system will post an error when you proceed to the next page if you exceed the character limit for either the major or minor fields. 
As an example you may include the following entry:
Bachelor of Arts in Education= B.A. in Ed.
Master of Science in Education Administration = M.S. Ed. in Ed Admin
Doctor of Philosophy in Education = Ph.D. of Ed
Education Cont.
The Education Cont. page also asks for additional information regarding your highest degree attained, GPA, number of graduate hours beyond your highest degree, graduate program area of study, and honors, awards, or distinctions (if applicable).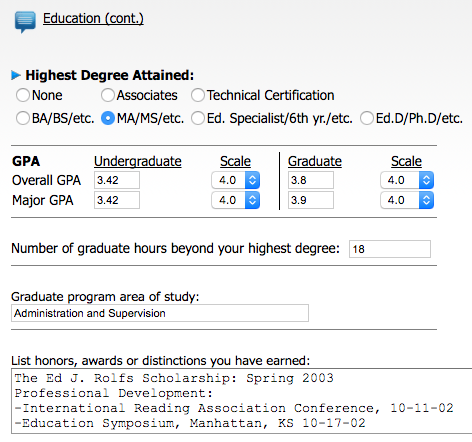 For GPA, it is important to note the difference between overall GPA and Major GPA. 
The Overall GPA includes the cumulative total of all credits earned for your degree. (This equates to 120 total credits for a typical bachelor's program.) 
The Major GPA includes the cumulative total of the credits earned for your major. (This equates to 30-36 total credits or the 120 total credits for a typical major requirement.) 
You should see the Overall GPA and Major GPA on your academic transcript. Contact your registrar's office if you cannot find these totals.